Children's Safety Initiative-Emergency Medical Services (CSI-EMS)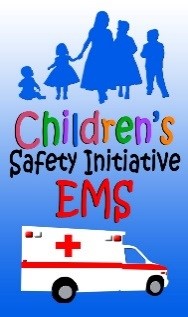 Recognizing that prehospital emergencies and pediatric care is important and understudied, the Children's Safety Initiative-Emergency Medical Services (CSI-EMS) was founded 2009 with funding from the NIH to examine the epidemiology, identify mechanisms, and develop and implement solutions to advance patient safety and improve pediatric outcomes in prehospital emergency care. CSI-EMS is a collaboration of clinicians, researchers and the public and private EMS community dedicated to examining and improving care and outcomes for children in the prehospital setting. With a focus on children's prehospital emergency care, CSI-EMS conducts qualitative, quantitative, simulation, and implementation studies.
Results of the research have been paradigm-shifting, revealing that the care delivery process is a critically important contributor to preventable adverse safety events in the prehospital care of children. Focus group studies have identified factors that contribute to safety events, and in response the group has developed an ecological framework for pediatric prehospital patient safety. CSI-EMS conducted one of the largest Delphi processes ever and achieved consensus in a sample of 753 emergency medicine (EM) physicians and EMS professionals from 44 (88%) states. The study found that airway management, heightened anxiety, lack of pediatric proficiency, lack of experience with pediatric equipment, and family members interfering with care were critical to the occurrence of errors.
Mirroring the process established by Brennan et al. in their seminal analysis of hospital safety (underlying To Err is Human), CSI-EMS conducted expert chart reviews where prehospital and pediatric EM experts independently reviewed EMS records for all pediatric (<18) transports with red lights and sirens from 2009-2011 in Multnomah County, Oregon. The group developed and validated a structured tool to identify prehospital patient safety events called the Pediatric prehospital adverse Event Detection System (PEDS). Adverse safety events were found in 66.1% of charts, while serious adverse events were found in 15.1% of charts. Using early chart review and factors described in the Delphi study, the group developed in situ simulations to re-enact critical pediatric emergencies. In total, the group conducted 188 simulations with fire first responders and private transport agencies. All simulations were video-recorded for objective analyses. The research has resulted in invitations to speak at international, national, or regional meetings; numerous publications; and national awards for Best Science and local community service awards.